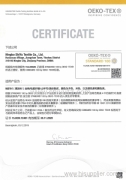 Our company has first-class equipment, advanced technologies and processes. And we also have professionals who are engaged in research and development. We can produce more than 50 species of black carbon lining. While, we produce the garment accessories with its lining to meet customer needs.
Based on the customer is God's purpose. The customer demand is our responsibility. We will develop ourselves step by step, and provide the most perfect service to customers.
Dear customers, Shiyu's future needs your concern and support, also including your trust. We believe that we can withstand all kinds of challenges and tests. We will be your sincerely friend! Thank you!